född 161213, 5 hanar och 8 tikar / born 12/13/2016, 5 males and 8 females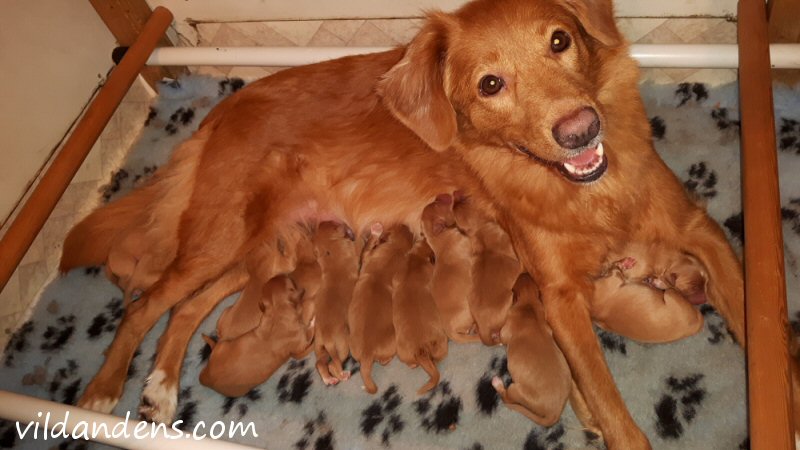 Temat denna gång är Callsigns / The theme this time is Callsigns
Stamtavla / Pedigree
J River Fox Red Fire of Texmo

LPI LPII LPIII SE UCH SE VCH Hummelviksgårdens Golden Texas
DE CH VDH CH Atago The Spirit of Heyoka
DE CH DE JCH VDH CH Pinocchio of Redpine
Zoethehope of Great Pleasure
LPI LPII SE U(U)CH Hummelviksgårdens Eliska
LPI SE U(U)CH SE VCH TJH Duck Dog's Red Herring
LPI SE VCH Working Beauty's Adorable Aida
Lönnlövets Nässla
SE VCH Soldrivans Bush I Brakka
River Duck's Zephyr Min Ögonsten
SE VCH Star Wars Sun Tatooine
LPI LPII RLD N RLD F RLD A SE U(U)CH Lönnlövets Karamell
LPI LPII Ducktoller's Curry
LPI LPII LPIII SE LCH SE UCH Lönnlövets Piggelin
J Vildandens Leet af Pixboot
HR UH CA CH Redland's Rubber Boots WCX CDX SH
Redland's Eastern Basil
Harbourlights Nifty Duke
Harbourlights Cinniman Twist
Redland's Hot Chili Pepper
CA CH Kare's Redland Rocket
Redland's Lazy Daisy
TJO(DK) Kanadickens Dolphin of Mafli
NO LCH SE LCH SE U(U)CH Foxy Farm's Leon De Paprika
Tollartrollets Paprika
Sunlit New Candytrail
Kanadickens Snöflinga af Gibcha
Yvonnes Tollare King
SE U(U)CH Kanadickens Coco Chanel
Inavelsgrad 0,2 % enl SKK:s Avelsdata, beräknat HD-index 104 (160607)
Klicka på bilderna nedan för att se hela bilden! /Click on the pictures below to se them in full size!
Jag är glad att få låna Moltas till min nästa kull som kommer att få Elite till mamma. Moltas har en kull sedan tidigare men det blir första kullen för Elite. Båda har pris på tollingprov – Moltas 1 ökl och Elite 1 nkl, och båda är utställda med Excellent. Elite har dessutom CK.
De är av ungefär samma storlek och jag tror de kommer att komplettera varandra. Elite har inte mycket vitt men Moltas har desto mer! Moltas har genomfört BPH liksom Elite som dessutom är mentalbeskriven.


Valparna kommer att bli Hereditärt fria avseende PRA och DE (Degenerativ encefalopati). Det innebär att ingen av valparna kan utveckla PRA eller DE. Elite är också CEA/CH testad och är fri.
När det gäller släkten så finns det många duktiga jakthundar med pris på tollingprov och retrieverprov. Elite har även 4 syskon som är viltspårchampions.


I'm happy to be able to use Moltas for my next litter that will have Elite as mummy. Moltas has sired one litter before but it is the first litter for Elite. Both have gotten prize in tollingtest – Moltas a 2nd prize in openclass and Elite a 1st prize in beginnerclass. They have gotten Excellent at conformation and Elite also has CK. They are about the same size and I think they will complement each other. Elite doesn't have a lot of white but Moltas has gotten a lot more!
Moltas has performed BPH and so has Elite, who also passed mental behavior test.
The puppies will be Clear by parentage regarding PRA and DE (Degenerative Encephalopathy). This means that the puppies can't develope PRA or DE. Elite is also tested Clear regarding CEA/CH.