född 2009-03-28, 2 hanar och 3 tikar  / born 03/28/2009, 2 males and 3 females
e/sire: SE VCH Lönnlövets Snoddas "Snoddas"
u/dam: Vildandens Månstrimma af Dinchi "Axa"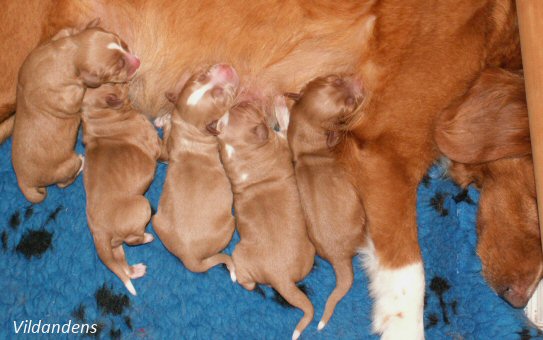 Temat denna gång är MÅNAR, eftersom ju Axa heter Månstrimma!
The theme for this litter is MOON since Axa's name is "ray of moonlight"
| | |
| --- | --- |
| Namn | Måne |
| Callisto | Callisto är den åttonde av Jupiters kända månar och den näst största. Den upptäcktes redan 1610 av Galileo Galilei. Namnet är hämtat från den grekiska mytologin och är där en nymf som är följeslagare till jaktens gudinna Artemis. |
| Luna | Luna är det latinska namnet på jordens enda naturliga satellit d v s månen. Luna var i den romerska mytologin mångudinnan. |
| Nix | Nix är en av Plutos tre månar och upptäcktes så sent som juni 2005. Namnet kommer av den grekiska nattgudinnan Nyx, men stavningen ändrades eftersom ett s k jordnära objekt (asteroider, kometer och meteoroider vars omloppsbanor för dem nära jordens bana) redan hade fått det namnet. |
| Atlas | Atlas är en av de innersta av Saturnus månar och upptäcktes 1980. Namnet är hämtat från den grekiska mytologin och betyder "Guden som bär upp himlen". |
| Titan | Titan är Saturnus största måne och den näst största månen i solsystemet. Denna upptäcktes redan 1655. Titaner var i grekisk mytologi den första generationens gudar som alla var barn av Uranos (himlen) och Gaia (jorden). |
Stamtavla / Pedigree:
SE VCH Lönnlövets Snoddas "Snoddas"
LPI Tollarbos Rock-Dingo
NO UCH Westerlea's Canadian Rockies
CA CH Westerlea's Digby Schooner
CA CH Westerlea's Echo Of Shelley
LP SLE CH SE U(U)CH SE VCH Ronja
Drögstas Priamos
Flyingtollers Silva Fatima
LPI LPII LPIII SE LCH SE UCH Lönnlövets Piggelin
Kare Riverduck Of Flottatjärn
CA CH Rusty Of Littleriver
Wabanaki's Blaze Of Glory
LPI SE LCH SE UCH SE VCH Rödrävens Kantarell
SE UCH Drögstas Papageno
SE UCH Drögstas Cat-Ri-Ona
Vildandens Månstrimma af Dinchi "Axa"
LPII Rödrävens Mäyrä "Dino"
FIUCH Small Fetcher Aladin
Nordwart Kassandros
Nordwart Fama
Siphra's Indian Gem
SE UCH Rödrävens Björnbär

I

NT FI EST CH

N

ORDV

-97 F

IV

-01 Westerlea

'

s Tornado at Siphra

LPI LPII SE UCH Vildandens Drottning af Snickjaz
Tollartrollets Snickers
LP SE VCH Rödahunds And-Ivar
LP Drögstas Perdita
LPI SE U(U)CH Kanadickens Cecilia Lind
SE UCH Riverduck Of Drögsta
Colliers' Mapleleaf Ambassador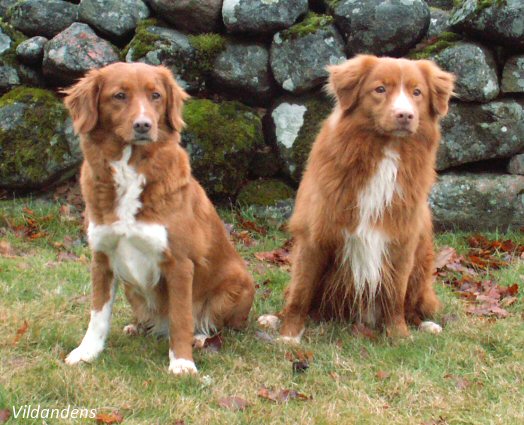 Axa & Snoddas
Axa och Snoddas är två arbetsglada och samarbetsvilliga tollare med trevlig mentalitet. Båda har bl a apporteringsmerit och har gjort bra mentalbeskrivningar, precis som deras kullsyskon.
I stamtavlan hittas också flera utställningschampions med jaktmerit d v s SE UCH!
Båda föräldrarna är DNA-testade avseende PRA och ingen av valparna kommer att kunna utveckla sjukdomen. Axa är däremot bärare vilket innebär att ev valpar, som ska gå vidare i avel, måste DNA-testas innan parning.

Axa and Snoddas are two happy working tollers with lots of will to please and has got a nice mentality. Both has got approved retrievetest and have done nice mentaldescriptions together with their littermates.
In the pedigree there are several "real" conformationchampions with the hunting merit SE UCH!
Both parents are DNA-tested regarding PRA and none of the puppies will develope the disease. Axa is however carrier so it means that any puppy from this litter must be DNA-tested prior to a mating in the future.